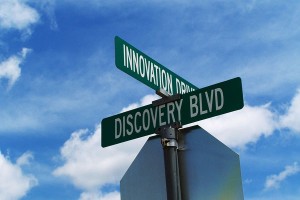 The Spirit of Discovery…
I am nearly breathless after trying to describe Innovation in my previous post. I want to now take a look into the spirit of discovery. So, keeping it old School…Webster says that Discovery is, "The act of finding or learning something FOR THE FIRST TIME!
Wow…my heart beats faster, just after reading that definition. You've read the headlines…"Her research led to a number of important discoveries. Reporters discovered that the Governor had been unfaithful to his wife. Discovered a talented musician. Voyage of discovery. It was one of the most important discoveries in the history of _____________!"
Discovery! Think of Lewis and Clark and their expedition of discovery. It required teamwork. It required admitting that they had no clue what they were going to really encounter. Discovery has a knack of showing all involved that they are not in control. Discovery forces all involved to admit this phrase; "I don't know!" Therefore, discovery creates humility.
Here's what is exciting to me about the key difference between innovation and discovery. I wrote earlier that Innovation breeds arrogance…meaning you have to have some arrogance to breed more arrogance. What's thrilling about discovery is that it creates humility. Somebody can have total arrogance and they can be put in the environment of "discovery" and they will be forced to be humble. Humility is born in the middle of uncertainty and danger. Opening yourself or your organization to uncertainty and danger creates humility. Innovators have to do what they're told and use a previous example to do it. Innovation companies rely heavily on their policy manuals. Policy and policing go hand in hand and are abundant in innovator type companies. Please don't misunderstand me, there is a deep need for policy. The attitude behind the policy is where innovative companies are different from companies of discovery. It's the difference between arrogance and humility. Discoverers have to rely on and trust each other. Which team would you rather work on? Don't forget that Innovation and Discovery are both good. I just personally am bent towards discovery and that is the bias you are reading in this article. An example is from the book of "Good to Great" written by author Jim Collins. In his book Collins differentiates between Levels 1,2,3,4, and 5 leaders. Jim collins talks about how level 4 leaders and level 5 leaders can produce very similar results, but a key difference between a level 4 leader and a level 5 leader is humility or lack there of. Level 5 leaders always lead through humility. Level 5 leaders tend to lead companies with the reputation for being Discovery oriented. Now a side note for those looking for some loop holes here. There are many companies known for being a company of discovery and their leaders seem to be arrogant. Maybe a fair example would be Steve Jobs and Apple Inc. Steve Jobs has been accused of being arrogant. However I think there are some fine differences between arrogance, confidence or ego. Many times all of those traits are just written off as arrogant.
A good example of creating humility through discovery would be taking a controlling "type A" person that struggles with arrogance and put him in the front of the raft as you White Water Raft down some serious rapids. This control type person and his arrogance washes away (in this case maybe literally washes away) into humility as everybody else in the raft hears him scream like a girl child who saw a mouse run across the room. HUMILITY SERVED!
That is what I love about discovery. It is teachable.
Discovery is the mentality that focuses only on the cause…even invests fully in the cause regardless of the effect or the end result. I said earlier that I am a pastor. So if I study the life of Jesus I can see that He was a man who even knew the end result or the effect of His life. He was going to be badly beaten, and murdered. Yet he stayed with the cause. By cause, I mean the foundation, the reason, the why, the origin instead of focusing on trying to control the end result, the effect, the outcome. In the people business, like ministry, the outcome/result/effect is God's job, not mine. My job is to focus on the cause regardless of the effect or result. In the Lewis and Clark discovery expeditions they couldn't control any effects or results. Every step could have been their end. They had to simply live in the moment and keep discovering what was new around every corner, and river and crevice and tree. The end result for them took care of itself…they desperately needed to stay faithful to the cause and let the effect be just that…the result of their faithfulness and determination to humbly keep in discovery mode.
Innovation focuses on the outcome and effects…the end result. Discovery focuses on the cause…the behavior, while on the journey, no matter the end result. Innovation measures results. Discovery measures faithfulness to the cause. One is motivated by control and one is motivated by love for the cause. One is living for the future and one is living in the moment and letting the future be in the hands of God. It's a scary thing to leave the results in the hands of God. I think leaving things in the hands of God is the safest risk you could ever take. In the Big Picture of life…the most important things are not at the end of the Journey, its what develops and shapes along the journey that makes champions…and…usually creates the kind of champions that ultimately produced greater results than the innovator. If a climber of Mount Everest only focuses on the end result of attaining the top of the mountain…then what happens once that result is achieved. (Many Everest Climbers have witnessed people who only focused on the end result…and forgot to focus on their next step, resulting in a fall to their death.) Also, once the climbers of Mt. Everest achieve the end result of getting to the top of the Mountain, those who were too focused on the result, many struggle with depression soon after. The Journey…the cause…that's where great things happen. The end result…tends to be the end.
Discovery is all about the mentality of facilitating the purpose and progress of others. Discovery is fun along the way because of the thrilling unknown yet to be discovered, but it is not about you. It has to be about others. Discovery mixed with selfishness kills people. Discovery, in its purest form, is about team and trust, and reliance on the critical factor that everybody on the team has each other's interests above their own interests, as they cut a path towards a new discovery.
Discovery admits that the questions never change…but the answers do. So a person of discovery never has the answers for tomorrow and only has his/her own same questions to keep asking.
Jesus taught that people shouldn't worry about tomorrow, for today has enough problems of its own. (Matthew 6:34)
People with the Spirit of Discovery keep on asking…"How should I treat this person right here right now?" How should I behave as I proceed into this business meeting?" "How can I focus my attitude to deal with this next situation that will impact my company for good?" "In this current conflict, how can I respond to this person to show that I do care about them, even if our conflict results in separation?" "Should I raise my voice and demand accountability for bad behavior with this team I'm about to confront?"
Discovery lives for the cause regardless of the effects/results.
Discovery is focusing on the cause and not the effect…the journey, not the results. It is focusing on the attitude not the end result. Innovation forces an outcome and controls and measures over and over and over. Discovery trusts and cares in the moment and leaves the outcome up to God. Discovery measures, but it measures very different things when compared to an innovator. Sound like a bad business idea? Sound like a plan for the can? If you answered yes to those two questions, you just began to die and your business too. This is the future business model. This is the business model of those that are speeding past you in the success lane of your business as you still are driving in the drive lane of yesterday.
Hopefully you are thinking right now, "I want to be a leader of Discovery!"
The attitude of discovery has no silos. There is a removal of walls that separate people. Innovation creates hierarchies and power pyramids and is led by bosses that control and measure according to a predetermined end result they will strive to achieve at all costs. Bosses and leaders are very different. (Another blog- another time.) Discovery creates circles full of people that honor and trust each other's strengths. This silo-less circle of discovery team, has a leader without a Boss mentality. Oh, don't mistake me, the buck must stop somewhere, but the buck stops with the one who is the true leader. A true leader is one who naturally facilitates the purpose and progress of all the others in the circle.
There is no "Boss" in the circle of discovery. Why? Because when you are out discovering and the "boss" finds himself in Quick Sand and about to die, his boss mode just dissipated. He is now the beggar, and now that he is helpless and about to die…depending on how he treated his "underlings," he might just be left to die and it all be covered up as a tragic accident! I don't want to be a boss who has everybody kissing my "Assets" out of fear. I want to be a leader who discovers with my team while keeping other people's best interests ahead of my own. That's discovery. That's a level 5 leader.
The spirit of discovery isn't focused on the organization; its focus is on the environment within the organization. The organization is an end result of a cause that people live for. The end result/organization eventually dies if the end results are all you are pursuing. If the team keeps focus on the cause, and the organization's environment, then the organization as an end result just grows. Focus on the cause not the effect! Focus on the cause with great purpose and the end result just happens. An end result that happens out of fear, control and force, is not an end result that gets celebrated, except for a bonus check at the end of the year. Who isn't motivated by a bonus check? The entire next generation of leaders…that's who.
A discovery type leader rarely, if ever, looks into its own field type for how to do it better. Innovative leaders are so narrowly focused that it rarely, if ever, discovers. However…a company that carries the spirit of discovery can also innovate because it was founded off of discovery. The instant the company of discovery quits the spirit of discovery; its success will die with its last innovation. This company knows its true competition is something out there yet to be discovered and its worst competition is purely itself. I love the slogan on Michael Jordan's web page. "The only man who could stop Michael Jordan….Is Michael Jordan!" That is true of your company, your church, your family and your self. When a company of discovery finally feels like it has arrived and has the best idea, it has now transformed into a company of innovation and has signed its own eventual death certificate.
Think about it. A company, or in my pastoral sense, a church that begins to decline and fail has only itself to blame. In the church world, the phrase "sheep stealing" is used frequently when people leave one church to attend a different church. If you think about it, well fed sheep don't stray and most definitely are hard to steal. If your business or your church is losing sheep, then something's wrong with the quality of your grass. Great churches and great businesses grow great grass and hungry sheep always want to eat.
The company of discovery is full of observation towers instead of silos. It studies and learns (discovery) from its own customer but is full of interaction and actually getting in the life of others outside its own company. A company of discovery never polls its own, only interacts. You can't poll something that is yet to be discovered and so the company of discovery is full of trial and error. It has a culture of discovery and grace. How many times did Abe Lincoln fail? How many times did Albert Einstein fail? With unknowns around every corner, discovery keeps you and the team humble. It has a great sense of humor and often laughs at itself. It has a mentality of meshing and sharing with others. It has a trust in every individual in the company to utilize and expand on their own personal expertise and strengths. Team and Trust are a must in Discovery Companies. The company of discovery has an attitude of servant-hood and adventure and considers others better than self. There is a fine line here. Its complex. Discovery companies can innovate because they didn't have arrogance to breed from. Innovative companies rarely discover because they started with an attitude of arrogance. Please understand. I didn't say one way one is right and one is wrong. It is obvious that I have a bias towards the discovery company and actually carry a bit of displeasure towards companies of innovation. That's my problem, that I will have to deal with. My simple question is…which company do you want be a part of? Here's what is awesome about companies of discovery. They never end. They continue to discover and adapt and evolve into the future. The only thing that ends is your ability to work in that company because your age just prevents you from it. Companies of innovation sooner or later celebrate among themselves how they achieved their final result…they nailed their ultimate goal! Hip Hip Hooray….Hip Hip Hooray. Then what? These are the companies people talk about when they think back at what used to be amazing. They usually last one life time. Again…not bad, not wrong. Just not where I personally want to leave a mark on history.
So which one of these two is the company you work in or lead?
Innovative? Then you have good news…you can develop your spirit of discovery and be remarkable. Its time to get your team together and go where no man has gone before. Its scary! It creates humility. Are you up to it?
Discovery? Then stand guard, for it is very easy to start coasting…which can only happen on a downward slope. The instant you think you have arrived, you have now transformed into innovation, but that is okay, because you can make up your mind to go discover some more!
I hope you will discover who you are.
I hope you will discover what could change the world and make it better.
I hope you will discover the freedom of working humbly with a team.
I hope you will discover that the greatest joy in life is helping others achieve their dreams and desires.
When you discover that, you will be living your own dream.
The journey will be unbelievable.
I'd love to hear your thoughts and push backs. I by no means am an expert in this. I am simply thinking out loud. I like to think it all makes sense, but I'm sure there are gaps. I'm still discovering what really works for me and its an adventure that is quite thrilling and very humbling.
Go Discover!