My last day in Torroro, Uganda Africa…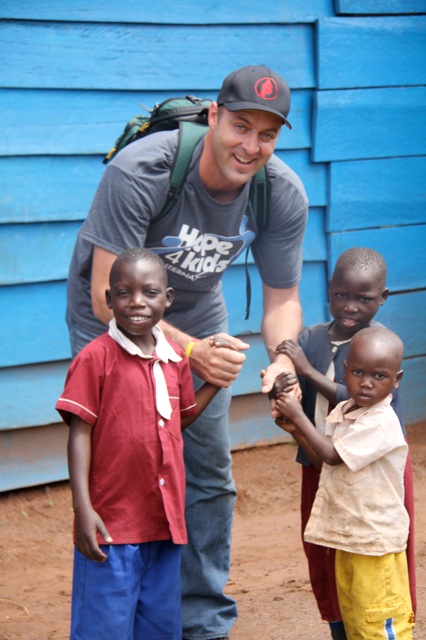 I can't really express the feeling I am experiencing inside my heart and soul.  I am physically and emotionally exhausted and invigorated.  I am so joyful to get home soon and hug my amazing wife and children and I have a huge heartache to leave a place that could use the encouragement and love of this American and many others.  So many children today knowing that our goodbyes must happen today wanted to just walk with me wherever I went holding my hand and asking if I was ever coming back.
This morning we got up…same breakfast as the previous blogs described…after breakfast half of the group headed off to the town of Mityana where many in the group have sponsored Children.  It is about a 5 hour drive to this town.  I'm not sure what that group fully did since I wasn't with them.
We stayed in Torroro and went to the city square where all the business takes place during the day.  The streets are dirt and full of potholes….and there are thousands of people walking back an d forth, taxis in the form of motorcycles (boda boda's) beeping their horns and zipping and zig zagging with no pattern in their direction of driving.  In the streets of Africa….EVERYBODY has the right of way…except pedestrians.  While we were downtown today a Boda-Boda was driving and a police officer tried to pull him over…the Boda-Boda would not pull over so the cop took it upon himself to ram the Boda-Boda…the driver fell to the ground and hit his head and died on the spot.  We were just around the corner, so we didn't see the actual incident, but all of a sudden you could hear the roar of a crowd.  The market stores we were in told us to stay inside as they ran and grabbed the front doors of their businesses and pulled them shut.  We didn't stay inside but chose to get out of the store and get out of the downtown area.  As we got outside of the building you could see the crowd gathering…the police officer took off for fear of his own life and the citizens of Torroro began to get big rocks and place them in the middle of the streets so that the police cars could not get in.   I'm not sure how it all ended.  We do know that the driver of the Boda-Boda was killed.  Its seems that all quieted down.  The people in the hotel told us that it is common for the Boda-Boda drivers to go on strike until the police admit fault and try to make amends.  Crazy.
After some shopping we headed back to the True Vine Ministries property and spent the whole afternoon playing soccer and throwing frisbees, and just spending time with some very special people in Africa.  I gathered about 10 young boys all ranging about 10-13 years old and we just walked for about 2 hours.  We talked about everything.  They asked me questions about America and I asked them questions about Africa and her language and words.  They had never really touched white skin before so I let them tug and pinch my arms.  They have no hair on their arms in Africa and they are fascinated with the white mans hairy arms.  When I told them they could feel my whiskers on my face…a full day and a half growth of very bristly whiskers!…they freaked out.  One boy couldn't touch my whiskers….he looked like he was about to literally get sick.  He was somewhat emberassed by the whole thing, so I didn't ask.  It was funny.
We talked about Bible stories that they had never heard before.  Imagine me talking to 10 boys ages 10-13 about the story of David and Bathsheba!!!  They knew King David, but they didn't know this juicy story!  I had them leaning in as I told them about a great King who was wandering on the roof tops and spotted a beautiful woman bathing.   They leaned in more!  LOL   They got a sadness in their eyes about this sin of David.  Then we talked about Psalm 51 where David records his sorrow and repentance and we talked about forgiveness and how  good and patient our loving God is.  AweMazing moment with these young men.
As we walked around some more they wanted to show me their classrooms where they learn and get their education.  As they were showing me the different rooms, three of their teachers walked in.  Very sharp men.  Dressed in dark slacks and pressed button down shirts.  These men were dressed in such a way that they could be successful businessmen in America.  They greeted me with big smiles and I spoke with them for a few moments….then…I asked them the big question!   "What do I have to do in Africa to get an African name for myself?"   They laughed and spent about 15 minutes explaining the different names I could actually get.  Depending on where you live, your African name begins with a certain letter.  They asked me if I liked the City of Kampala or the City of Torroro better.  I love Torroro anyway and all three teachers lived in Torroro so they took great delight when I told them my favorite was Torroro.  This would mean to my African name that it would begin with an "O"   They then explained that since this is my first African name that they recommended that it be a very simple sounding name so it would be easy for me to remember.  I said "good!"  They then asked me my birthdate.  I told them October…October…they said that October is the sunny time in Torroro.   They asked me what time of day I was born.  I told them around 1 a.m.  These questions all help determine my African name.   After they discussed it, and even included the 10 boys I was with in the discussion they came up with several and then asked me to pick one.  They said that when they pronounce the different name options that one will feel right with my spirit and I'll know.  I don't remember the full set of choices…but when they pronounced "OCHIENG"  It just seemed like the one I wanted so I told them.  It is pronounced O-Chang.  (the O is a long O.)   They all smiled and clapped and I was nervous thinking they played a joke on me…but they consider it a great honor to name someone with an African name.  They were simply celebrating with me.  I asked them the meaning of my name and they said that October is the Sunny time of Torroro, Uganda, Africa and that the name Ochieng means person of light!  I was touched in a powerful way by that.  I feel honored by it.  My greatest desire and my greatest passion is to be a light bearer for Jesus Christ.
Now some of you might be a bit disappointed after reading this because you read last nights blog where I posted that you had to eat a White Ant in order to be given an African name.  Well that was just the leader of the group basically playing a joke on me.  HOWEVER…I promise you if we come across a White Ant in the next couple of days…I will eat it anyway and video record the whole thing for your delight!  I asked a little more detailed questions about this white ant.   It is actually a large termite that lives in the big dirt mounds you see in the middle of the African bush.  These things have wings and are about an inch long and as thick as up to two pencil widths.  Juicy and buttery…is what I'm told they taste like.  Again…If I find one…I will eat it and video it.
We leave early tomorrow for a place in Africa called Fort Portal where we will spend one day doing mission work and the other day going on an Africa Safari!
I've got to pack.  Then get to bed.  Tomorrow we have a 10 hour drive to Fort Portal.
May your day be blessed and may you fully serve the Lord in whatever you are doing throughout your day.
Trent